CAREER IN DIGITAL MARKETING
Digital marketing is an industry that is rapidly changing. People are getting new opportunities with the development of technologies. People from programmers to designers can involve in this data-driven marketing and can boost up their career in digital marketing and can get new opportunities.
They can work as a freelancer and can earn extra income with no time limitations.
We can set up our own business or can work in an MNC by working on the concepts of digital marketing.
Here are some career options related to Digital Marketing.
Internet Marketing Specilaists
You can easily develop and function the market plans through different modes like emails, advertisement campaigns, blogs or social media techniques so that the target can be achieved successfully.
You can also opt for newsletters and bring the best in business through internet marketing.
Search Engine Optimization (SEO) Marketing Specialist

The main aim of SEO ANALYST is to provide site visibility on the first page of Google page.
So that the maximum user can visit the site and become aware of the product and services provided by the user.
When more and more users visit the site then it can increase site traffic. Due to this, it can easily increase page views. People who opt for SEO ANALYST will be benefited with highly paid jobs.
Digital Marketing Directors
People who opt their career as digital marketing directors are responsible for maintaining sites as well as implementing their ideas in sites so that more and more users can take benefits of the services displayed on the website.
These managers acquire full knowledge of site traffic and spreading brand awareness among the people.
They can take the help of social media for generating leads and customize the responsibilities of the company.
Business Developer

The business developer is the one who expands the business of the firm in the diversity of the clients or customers.
They help in developing the business with the help of business tools like social media or email marketing. And implement their ideas for the growth of a business.
Again learn digital marketing and become a business developer.
Who can Build Career in Digital Marketing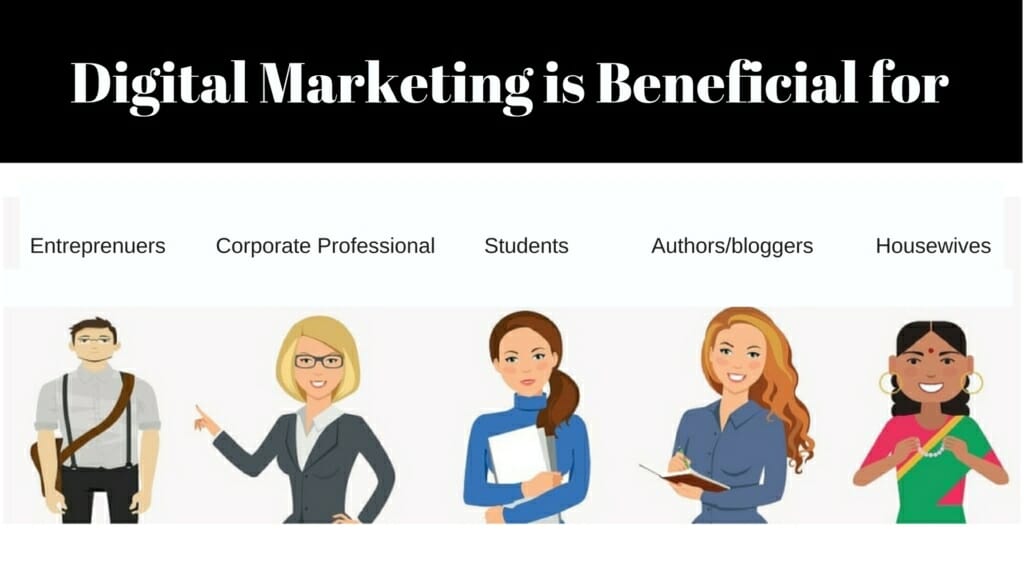 Freelancers

A freelancer is a person who can easily earn money from home itself. They are not committed to any company.
If you want to work as a freelancer then you can choose digital marketing as your career.

You can design your websites and earn money or set up your business online.
Over 1.5 million people are switching to freelancer profiles per week. It is the best option for any retired person or housewives or even students that can work from home and become a freelancer.
Social Media Analyst

The person who generates the awareness of their brand among people through social media is known as social media analyst or data analyst.
They help in expanding the business through social media by making blogs or creating channels and their main purpose is to expose their brands with the help of social media.
Digital Sales Executives
Start your career as a digital sales executive and earn up to 2 lakh annually. The main work of a marketing manager is to provide the best business solutions by setting up appointments to the local business owners.
The main aim of a digital sales executive is to focus on the needs of the business and provide the best for the consumer.
Graphic Designers

The main aim of website designers is to add graphics aspects in the website so that their site will look more attractive and more and more people visit their website and they are also responsible for generating traffic on the website in one or another way by maintaining the present ability of the website.
They maintain their sites as well as update content with the help of graphics and animations.